Membership
Become A Member
At BGCDA, we offer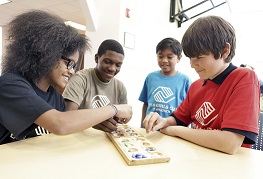 programs for children ages 6 - 18. School year registration is $100.00 at the Foster Street Club in Danville and $100.00 at the Chatham Unit. Summer Camp registration must be completed for each member during the summer.
2019 Summer Camp:
NEW OPPORTUNITY: Early Bird 8am - 6pm $200
Traditional: Noon - 6pm $100
Our Programs
In partnership with schools, parents, and community organizations BGCDA implements proven social and academic programming. These programs provide students with the opportunities to achieve in school and in life. We share facilities, curriculum, data, and staff training to deliver academic and social interventions designed to increase student outcomes and graduation rates.
---